Seaver Adult SafeFit Rider AirBag
By Seaver | Product Code: AE781100
Seaver Adult SafeFit Rider AirBag
Free UK & Channel Isles Delivery when you spend over £75
£337.46
£404.95

inc. VAT at 20%
US$425.20
US$510.24

inc. VAT at 20%
Sizes
Please select a colour vest
Colour Trim
Please select a sizes
In Stock - or available for ordering.

Seaver Adult SafeFit Rider AirBag
In the event of a fall the SAFEFIT airbag vest protects the vital areas of your body with its ultrafast release. You ride safely ready to excel without giving up your freedom of movement or your style thanks to its fit and customisable options
To prevent serious injuries the SAFEFIT airbag is activated very quickly before impact and protects the alignment of the trunk: back lumbar area neck cervical spine rib cage pelvis and sacrum. This makes you less vulnerable on horseback and gives you the peace of mind you need to excel.
With SAFEFIT you wear an airbag vest without feeling like you are wearing one. SAFEFIT is lightweight (less than 600 grams) and does not restrict your movements. Made of stretchy materials it follows all your efforts without friction. Its microperforated fabric allows for ventilation so you can wear SAFEFIT in summer and winter. It is easy to forget once you are in the saddle and does not create any extra thickness.
Your SAFEFIT airbag fits all your outfits. A return to the house? Put it over a down jacket in winter or a tshirt in summer. A planned competition? Wear it under your compatible jacket or over it. The choice is yours!
The SAFEFIT vest can be combined with the SAFERIDE option offered on the Seaver application. When activated on your phone your family and friends are alerted in the event of a fall and can geolocate you for rescue. With the airbag vest and the SAFERIDE option activated riding safely makes sense for you and those around you.
1 year free subscription to SAFERIDE with the purchase of the airbag
Your SAFEFIT airbag fits all your outfits. Put it over a down jacket in winter or a tshirt in summer. A planned competition? Wear it under your compatible jacket or over it. The choice is yours!
SAFEFIT by Seaver airbags are designed to provide riders with discreet lightweight closefitting protection that does not add bulk. The tight tailored fit and the use of particularly thin materials make the airbag suitable for wearing under a show jacket.
SAFEFIT can be worn under an airbag compatible garment according to the rider's preference without affecting the airbag release. To be airbag compatible a competition jacket must contain a minimum of 15% elastane in its composition. Furthermore there is currently no certification governing the compatibility of an airbag with any other riding garment.
Compatible Pikeur Jackets:
• Pikeur Klea
• Pikeur Luis
CARTRIDGES:

• 24g for airbags : XXS Regular Fit XS Regular Fit and XS Long Fit
• 35g for airbags : S Regular Fit S Long Fit M Regular Fit M Long Fit L Regular Fit and XL Regular Fit
CARE AND STORAGE ADVICE:
• Do not machine wash or dry clean or immerse in water. We advise you to wash your airbag vest by hand with a sponge/rag with mild detergents without rubbing.
• Do not tumble dry.
• Do not iron.
• Do not expose your airbag vest to high temperatures (on a radiator near a flame closed vehicle in full sun)
• Do not leave your airbag vest folded or rolled up for a long time. You can use the offered Freejump cardboard hanger to fold your vest easily while transporting it.
• Store your vest on a hanger in a dry and moisturefree place.
PRODUCT WARRANTY:
• The European standard of product warranty is 2 years.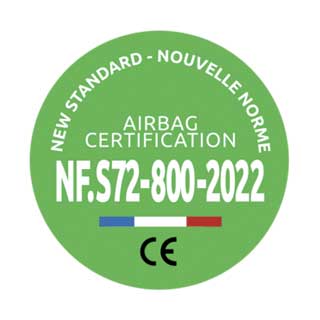 The Seaver Adult SafeFit Rider AirBag reaches in 98 ms* the necessary pressure to obtain an optimal protection and outperforms the impact tests of the AFNOR NF S7828002022 standard
International Customers
The USD price above is for indication only – we are charging in GBP (British Pounds) and your card company will convert to your currency at their prevailing rate. Prices do not include shipping or any taxes and duties which may be payable.
Cart Value Discount
Spend £450 on our products and get 5% discount or spend £950 on our products and get 10% discount. The qualifying value is excl. VAT (if applicable) and shipping - and excl. Special Offers, Stock Clearance and FEI Jump Cups items.
Delivery
For UK delivery small items cost from £1.95 for Royal Mail First Class service, to £6 for Parcelforce tracked service. Larger items up to 25 kg cost £6 for Parcelforce tracked service. For overseas deliveries this is calculated at the checkout and depends on your location, size / weight of the parcel and your preferred service.