Flex-on - Aluminium Stirrups
By Flex-On | Product Code: AE660110
Flexon Aluminium Stirrups
Free UK & Channel Isles Delivery when you spend over £75
£229.96
£275.95

inc. VAT at 20%
US$289.75
US$347.70

inc. VAT at 20%
Footrest
Please select a colour
Elastomer
Please select a footrest
In Stock - or available for ordering.
Flexon Aluminium Stirrups:
Stirrups in the Aluminium Range are made of a special type of aluminium used in aeronautics. The Flexon stirrup offers sophisticated bending which absorbs shock with a tread that has a Grip or UltraGrip surface for better adhesion optimal stability and a perfect connection with the mount.
The stirrup frame with its offset skewed slot for the stirrup leather is ultralightweight. It also offers the rider a special place for personalized communication.
The Flexon Aluminium stirrup is fully machined from a solid block.
The R&D department has designed the stirrup with a complex geometry to give it strength and lightness.
=en&change_lang=1 target=_blank>Click here to view our FlexOn Aluminium Stirrup Configurator!

=en&change_lang=1 target=_blank>Click here to view our FlexOn Aluminium Stirrup Configurator!

The footrest comes in 6 different variations Mixed Incline or Flat with either Grip or Ultra Grip.
The Ultra Grip has metal spikes inserted into the rubber base for added grip.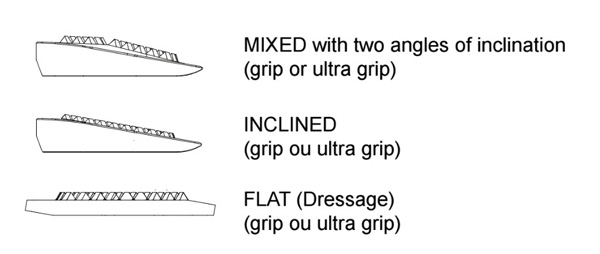 The Elastomer is the shock absorbtion element of the Flexon Stirrups and is placed below the Footrest.
The Elastomer comes in two versions: Medium (grey) and Hard (black):
• Medium (grey) recommended for leisure riding hacking dressage and junior showjumping.
• Hard (black) recommended for eventing and jumping.
Standard stickers are black with on in the same colour as the elastomer.
The stirrups can be personalised through the purchase of Magneric Stickers in a variety of designs.
International Customers
The USD price above is for indication only – we are charging in GBP (British Pounds) and your card company will convert to your currency at their prevailing rate. Prices do not include shipping or any taxes and duties which may be payable.
Cart Value Discount
Spend £450 on our products and get 5% discount or spend £950 on our products and get 10% discount. The qualifying value is excl. VAT (if applicable) and shipping - and excl. Special Offers, Stock Clearance and FEI Jump Cups items.
Delivery
For UK delivery small items cost from £1.95 for Royal Mail First Class service, to £6 for Parcelforce tracked service. Larger items up to 25 kg cost £6 for Parcelforce tracked service. For overseas deliveries this is calculated at the checkout and depends on your location, size / weight of the parcel and your preferred service.